PE Pipe Production Line
Brand : Kefengyuan
Product origin : Qingdao
Delivery time :
Supply capacity : 10 sets per month
PE Pipe Production Line
Raw material formula: HDPE resin
Application of PE pipe production line: 16-63mm, 75-160mm small diameter HDPE pipe is used for water supply; Big size of hdpe pipe is used for water sewage.
Production line features:
High efficiency extruder is designed for HDPE pipe, equipped with reducer which is high speed and low noise, feeding section with cooling unit and reversing spiral groove, different pitch undulant screw which allows great output, lower melting temperature, and lower energy consumption.
Constituent of PE pipe production line
1,Single Screw Extruder
2,Co-extruder for mark line
3,Die&Mould
4,Vacuum Calibration tank
5,Cooling Tank
6,Haul-off Machine
7,Cutting Machine
8,Stacker
We accept special design according to your pipe diameter requirement.
| | | | | | | | |
| --- | --- | --- | --- | --- | --- | --- | --- |
| Model | KFYPEG-75 | KFYPEG-160 | KFYPEG-250 | KFYPEG-400 | KFYPEG-500 | KFYPEG-630 | KFYPEG-800 |
| Main extruder | KFYSJ-50*33 | KFYSJ-65*33 | KFYSJ-65*33 | KFYSJ-80*33 | KFYSJ-90*33 | KFYSJ-100*33 | KFYSJ-120*33 |
| Assistant extruder | KFYSJ-30*25 | KFYSJ-30*25 | KFYSJ-30*25 | KFYSJ-30*25 | KFYSJ-30*25 | KFYSJ-45*30 | KFYSJ-45*30 |
| Pipe dia. (mm) | Φ16-Φ75 | Φ63-Φ160 | Φ90-Φ250 | Φ200-Φ400 | Φ280-Φ500 | Φ350-Φ630 | Φ500-Φ800 |
| Output (kg/h) | 150 | 250 | 300 | 500 | 750 | 900 | 1200 |
| Production speed (m/min) | 1-16 | 0.5-12 | 0.2-4 | 0.2-2 | 0.1-1.5 | 0.06-1.5 | 0.05-1 |
| Installed power (kw) | 80 | 150 | 200 | 260 | 360 | 430 | 600 |
Single Screw Extrduer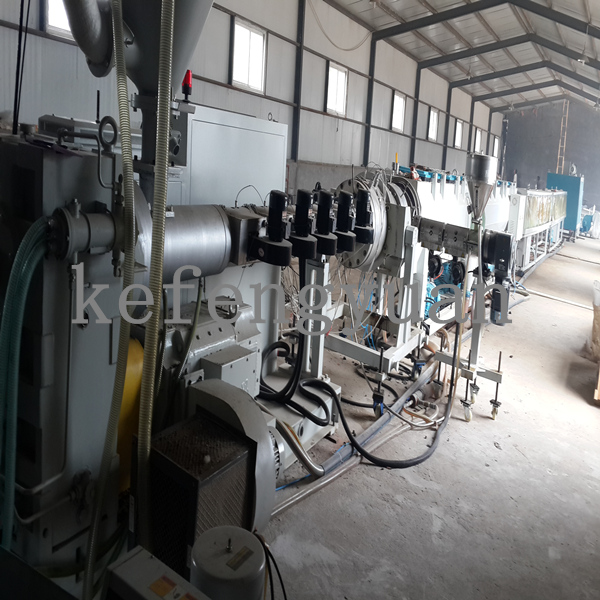 Co-Extruder for marking line(2 lines/3 lines/4 lines/6 lines)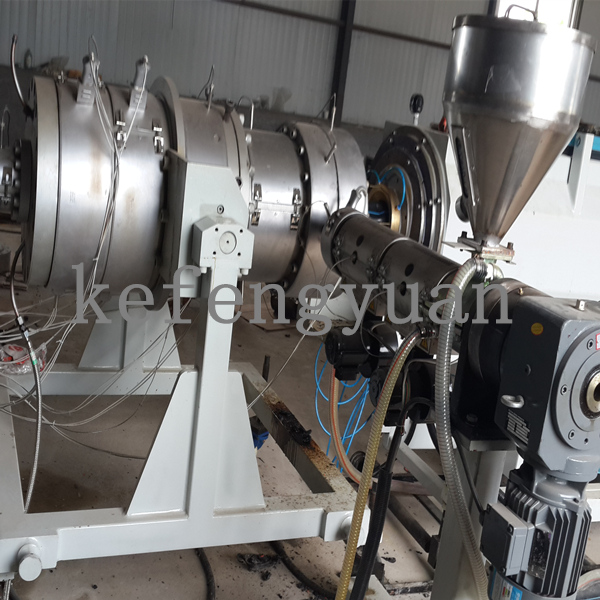 Die head&Mould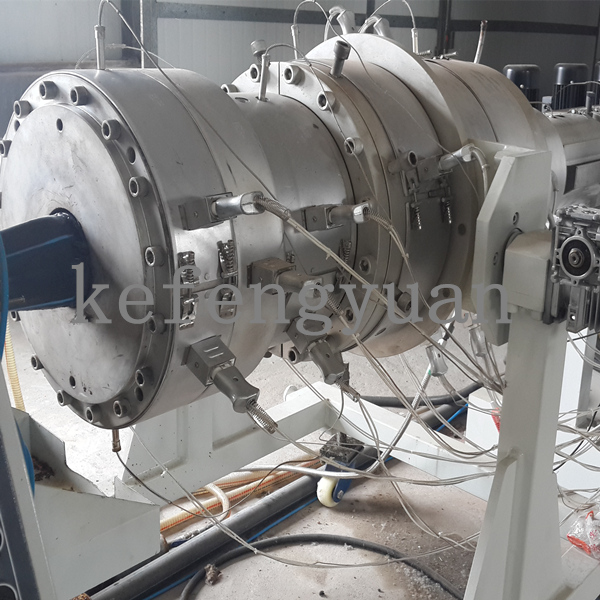 Haul-off Machine:Two caterpillars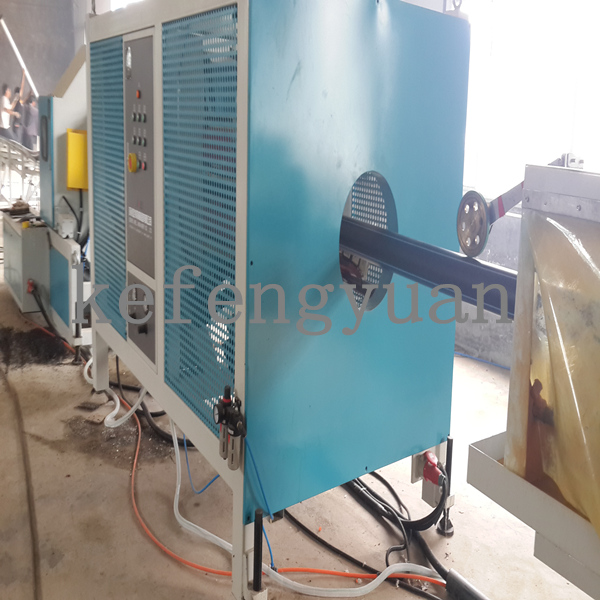 Recoiler: One station and Two station can be choosen according to requirement;