Spiral type Corrugated Pipe Extrusion Line
Brand : Kefengyuan
Product origin : Qingdao
Delivery time :
Supply capacity : 10 sets per month
Spiral type Corrugated Pipe Extrusion Line
This extrusion line adopt spiral forming technology. Machine cost low and easy to operate compare with Krah,DWC pipe and hollow wall winding type pipe.
The finish pipe have high SN.The maximum can prodcue to 3000mm have features of high temperature resistance, resistant to corrosion and abrasion, high intensity, good flexibility, etc. They are widely used in fields of auto wire, electric thread-passing pipes, circuit of machine tool, protective pipes of lamps and lanterns wire, tubes of air conditioner and washing machine, etc.
Raw material: 100% recycled material or virgin material;
Model of spiral type corrugated pipe
Model

Pipe Dia.(mm)

Extruder model

Production speed m/h

Max.out put kg/h

Total power kw

Overall dimension mm

KFYK-800

200-800

SJ-75*33(1 set)

SJ-45/30(2 sets)

1-30

200

180

17000*8000*4000

KFYK-1600

600-1600

SJ-90*30(1 set)

SJ-45/30(2 sets)

1-20

300

220

20000*10000*4800

KFYK-2000

800-2000

SJ-90/33(1 set)

SJ-65/30(2 sets)

1-18

400

260

22000*12000*5000

KFYK-3000

1500-3000

SJ-120/33(1 set)

SJ-65/30(2sets)

1-10

500

310

25000*14000*5300
Extrusion line for hdpe profile:The profile widing together forming the final big size pipe
The profile extrusion line include: Single screw extruder, Die&Mould, Calibration mould for each size, Vacuum calibration table(Tank), Haul-off Machine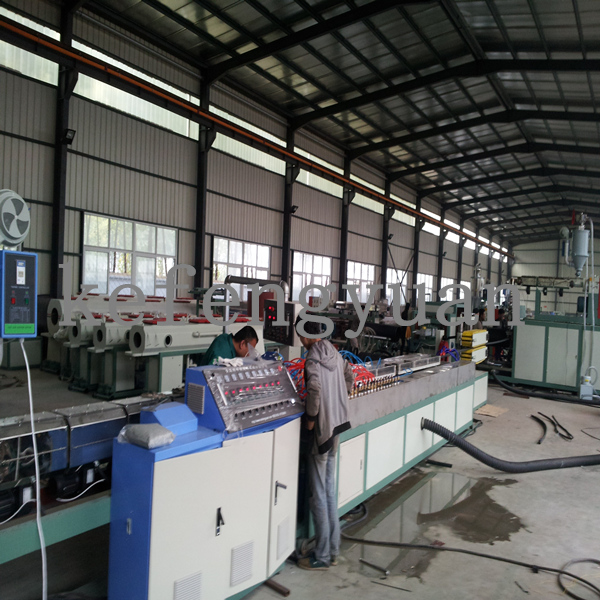 Forming Machine: There's glue extruder on the top of the forming machine. It will glue the profile toegher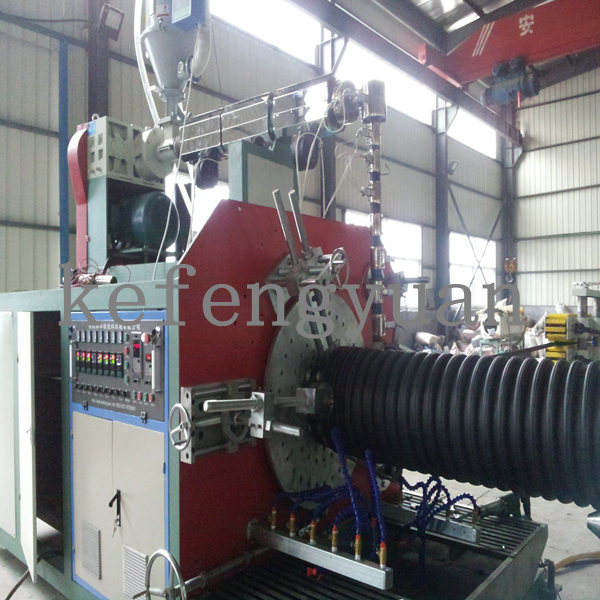 Cutting Machine: Saw blade cutter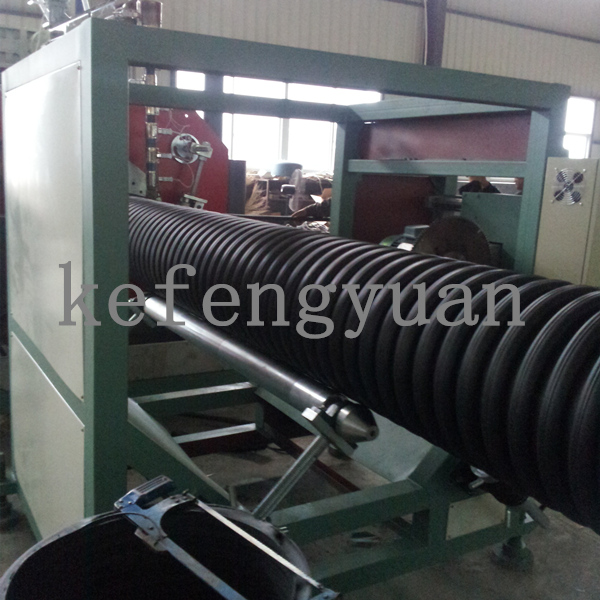 Pipe Conveying Framwork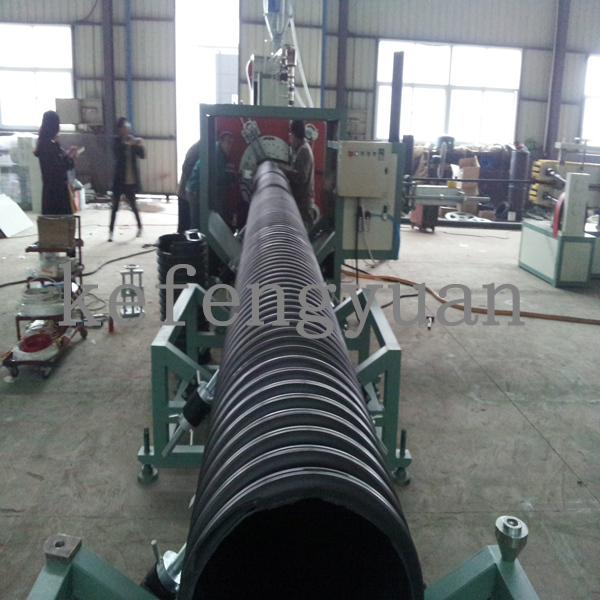 Big diameter spiral type corrugated pipe during production